Sasha Alexain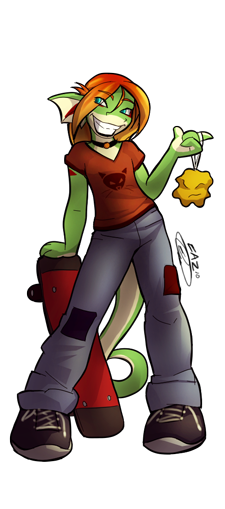 Age: 27 (Human equivilant: 16)
Gender: Sometimes difficult to tell externally, but male.
Color: Green
Height: 4'2" or 1.26 m.
Hair: Blonde
Eyes: Baby Blue
Weight: 68lbs or 30.8kg
Bloodline: Csyelusian
Distinct marks: Red speckles behind the eyes and inside the ears. Sasha uses make-up to connect them. He also has extensive red markings on his stomach and tail.
Virgin: Status unconfirmed, but highly suspect.
Short male, bit dorky and innocent all around, but in a way that girls find more cute than stupid. His antics are generally harmless so he's seen as kinda the group mascot in his own way.
Sasha's personality is easily summed up as annoyingly positive. He could also be described as a contradiction of what it means to be a guy. He loves to step up and be a man when he can, but he generally fails in that field. Despite his failures, he doesn't let that stop him from wanting to be the 'hero' type, idolizing comic book and sci-fi/fantasy heroes who are always helping people. The only thing stopping him from achieving that goal in reality is his body. Somehow genetics weren't kind to him, leaving him to be a 'bishi' (see girly boy) in build. Despite being mistaken for a girl sometimes, this doesn't stop him from loving the female form. In essence, girly in body, nerdy of mind, male in deed.
Sasha isn't exactly the smartest cookie, but nor is he dumb. Somehow, he just tends to lack common sense, lending him that innocent attitude that the girls find endearing. He has the drive and motivation; it just needs some direction in which to go. For now, he uses it help others when and where he can and be the best Dragonball player possible. While not the biggest or strongest player on the field, his agility and speed make up for it. While valued as a player, his abilities don't make him any more popular. In fact, most of the other guys on the team view him as a towel boy…er…girl…er…thing… Come on, he looks like a GIRL!
When it comes down to it though, Sasha copes well with the stresses of high school by just having a big imagination, seeking out 'adventure', and the ability to entertain himself. Any time he hits a low point, it lasts only a short time before his enthusiastic nature comes back.
Sasha loves his family, but he'd rather they backed out of his personal life a bit more. Sergei and Doris Alexain are very protective of their youngest, rambunctious offspring (sheltering him heavily).  They like to keep tabs on who his friends are and where he is at all times.
His sister, Natasha Alexain, is in college and living in dorms a few hours away. So she visits only every so often.
FUN FACT 1: Sasha's lips have been in question quite a bit since the 3rd incarnation. Is it lipstick? Is it natural colour? Well, so far the artist states: "It's artistic license." Which can be any and all of the above.
FUN FACT 2: Sasha fears that his shower loufa is possessed by an agent of the Matrix and occasionally talks to him....
Rutherford (Ruth)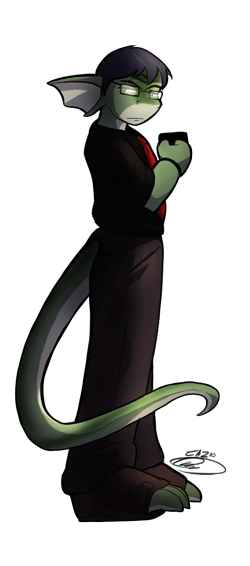 Age: 29 (Human equivilant: 17)
Gender: Male
Color: Green
Height: 4'7" / 1.39 m
Hair: Black
Eyes: Brown
Weight: 81 lbs/ 36.7 kg
Bloodline: Suspected to be part Shark, part Kuvrahk.
Distinct marks: Faded brown patch of scales on his nose and forehead. And intricate markings on his back.
Virgin: Nope.
Cold, intelligent, and strong. He's a stalwart bastion of logic and snarkiness that tends to come across as aloof, condescending, and unapproachable. His cold intelligence makes him critical of everything and very negative, almost to a fault. Ruth believes deep down that happiness doesn't and never should depend on others. Instead he believes that happiness can only come from oneself. While Ruth may seem to not quite be a 'fit in any kind of group' kind of guy, that's actually not true either. He's aware of what real true friendship is like, but he keeps it sacred towards very few select people. Once trusted, Ruth is a passionate and powerful defender of friendship…of course his methods need a little bit of work. And many hardly take him seriously. Ever.
He disdains T and Sasha's constant comic talk, can't stand Jo and Boo's preppy cheerleader girl fanaticism towards pop culture, but finds CC intriguing. She could be a good match in sarcastic wit and worldly experience, but that has yet to be seen. He views D'shea as an anomaly; a jock that is actually an intellectual threat, but one he can easily dispatch of should the circumstances demand it.
Despite all of Ruth's seeming worldly experience, he actually isn't very well traveled. When it really comes down to it, he's more a country bumpkin that went overly-sophisticated unlike the rest of the local populace.
Ruth is really guarded when it comes to his emotional state of being. This stems from when he used to be abundant in friends and somewhat popular, but this all changed back in his early 20's.
Rutherford's family has been going through trying times for quite a while. All he has left is his father. He has siblings and his mother, though they remain in the background, unnamed, unmentioned, not existing to anyone that it doesn't matter to. This includes Rutherford.
His father, Tesserly, works hard as a Janitor/Night Security Guard, and has been struggling for many years to keep things afloat. Ruth loves his dad and respects him completely.  The events that lead up to the breaking up of his family is a catalyst in what caused Ruth to be the way he is today. 
FUN FACT: Special ability is Ruth-O-Vision.
Tabitha Tambiri (T-Square)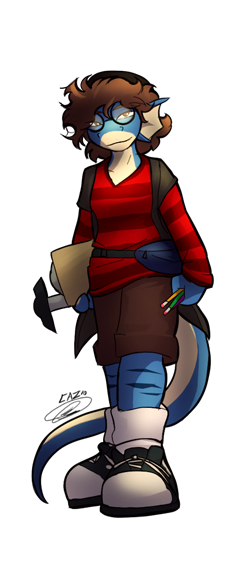 Age: 27 (Human equivilant: 16)
Gender: Female
Color: Blue
Height: 4'4" or 1.31m
Hair: Brown
Eyes: Brown
Weight: 66lbs or 29.9kg
Bloodline: Csyelusian and Mystic
Distinct marks: Darker blue striping on her ears, back, shoulders, upper arm and shins. Tiny dark blue leopard freckles on her cheeks and behind eyes.
Virgin: Probably.
Average sized, a bit cut and athletic in spite of being a hardcore geek. Is a tomboy and looks the part with pride.
To say that T is like a pirate is a lie. T isn't LIKE a pirate, T IS a pirate! Yar Har-Tiddly Dee, being a pirate is alright by me! *A-hem* Her life, her room, and even her clothing styles give testimony to her pirate-ness. Despite being abandoned by her parents at a young age, T has come out as a mostly balanced individual. Her aunt brought her up, leaving T to become headstrong, independent, tomboyish, tough, and extremely rambunctious. Her aunt's lifestyle has added a bit of artistic flair to T's life, giving her a powerful imagination that she isn't afraid to use.
T's only weakness is that she can be goaded into doing girly things. She has never outright refused them, but she's just never had the time (or made the time) or the interest in them. Occasionally she does like the more 'prissy' things in life such as doing her hair. Still, she refuses to give in and meet the standard of beauty that is generally held to be true.
There is only one instance where her 'tough' ship is capsized. The strong wind that blows across the port bow known as 'That One Guy' always makes her shy and weak in the knees. Of course, she'll never openly admit it, but if confronted her face tells all.
Not much is known about T's family aside from her Aunt Binki Tambiri. What little that has been told is that T's parents literally didn't want her, but raised her anyway (out of obligation).  When she was old enough, she was sent to Star Rock Falls to live with Binki. Her grandparents can't stand her Aunt Binki for various reasons. A lot of eccentricities that T displays are influenced from her entertaining, gypsy-ish, soothsaying aunt.
Their home is nice enough (for her). Its a trailer in a trailer park. T doesn't complain, that's for sure. For Binki it provides that possibility for her gypsy lifestyle to recommence at a moments notice.  For T, it's home and where the only family she has is.
FUN FACT: T transferred from the Borderlands of Central Csyelus. Because of this, she is no stranger to martial arts or actual fighting, though her exact level of ability isn't known.
Corine Cadence (CC)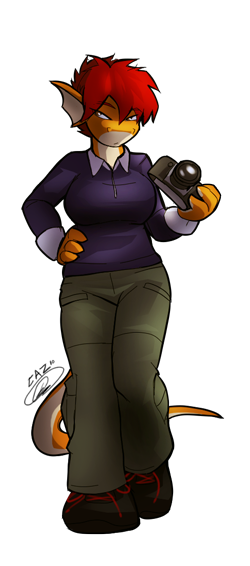 Age: 31 (Human equivilant: 18)
Gender: Female
Color: Orange
Height: 4'8" or 1.42m
Hair: Red
Eyes: Hazel/Brown
Weight: 78lbs or 35.4kg
Bloodline: Skylord and then Csyelusian
Distinct marks: Brownish orange speckles all the way down her back. Freckles on her cheeks, and a distinct marking on her shins.
Virgin: Are you kidding?
Tall, amazonian, strong and busty. She has a little extra weight and doesn't mind it.
CC is the 'mature' one of the group for the most part (then again when comparing to the rest of the group...). She tends to be quiet and seem disinterested, but that's not because she doesn't care. It's more her way of doing things. She tends to have a "been there, done that" attitude, which she backs up with sarcasm. In truth, she really has been there and most likely done that. She just doesn't talk about her past much, leaving a mystery that always has perked the curiosity of her friends.
Unlike many girls her age who pretend to not be aware of it, CC is fully aware of her own rack. She isn't ashamed of it in the least bit. Sometimes, she just doesn't always appreciate all the attention they bring.
CC has many talents that she doesn't brag about. She's gifted in photography and loves to take pictures of everything: scenery, people, even herself. Part of her room (a converted garage) is partitioned to create space for developing her own photos. She also is a very talented dancer and has an almost fanatical interest in forensics and anything that deals with it (TV shows like CSI for example). Her humble nature has lead CC to generally keep her distance, staying on the fringe of the group as a friend. She still enjoys their company as she doesn't really have friends elsewhere.
CC has two pet rocks, Speedy and Fluffy. She even makes sure to clean their cage periodically…
She loves her family, loves kids, and has a seriously major maternal instinct. She does keep herself separated from being 'Second Mom' of the house.
FUN FACT: CC doesn't mind talking about sex. Like all the fun details that kids would freak out over, including the truth that parents still have sex.
Josephine Bean (Jo)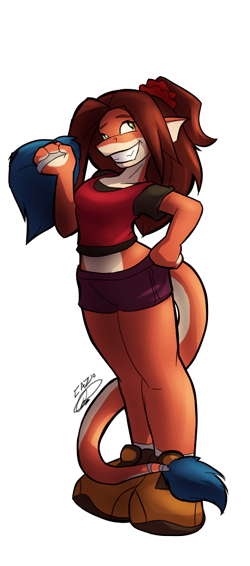 Age: 27 (Human equivilant: 16)
Gender: Female
Color: Red
Height: 4'5" / 1.39 m
Hair: Brown
Eyes: Green
Weight: 64lbs or 29kg
Bloodline: Csyelusian and Skylord
Distinct marks: Darker red faded patches on her lower back, neck, shoulders and forearms and her ankles/shins. (these are slowly fading markings that will become more distinct as the strips go along)
Virgin: Proud to be one. Still a tease.
Unlike the other Kuvrahks, Jo is straightforwardly complicated. She always seems happy and is perceived as ditzy and hyper. This is mostly just to cover-up all the deep anguish she carries from the way her parents ignored her growing up. This works just fine for her as a cheerleader and somehow makes her very popular at the school. It also helps that she comes from a wealthy family, is always "in" with pop culture, and can talk just as easily about what's fashionable as she can talk about the quadratic formula. She is a straight "A" student, but doesn't let that go to her head.
While she can be imaginative, she isn't quite as 'nerdy' as Sasha and T, leaving her to have some awkward moments when trying to relate to them. Still, she makes new friends very easily and tends to keep them moderately. What imagination she does have tends to go towards her dreams of being an actress when she grows up. Jo has already collected a huge collection of costumes and garb for any occasion, which she stores in the numerous closets she has at her massive house.
Her Family: Wealthy. Ridiculously so.
She's an only child.  Her parents are very well off, dreadfully rich. They travel, for pleasure or business, and it's very demanding of them.  She rarely gets to see them, so she spends most of her time with her grandmother on her mom's side.
Her Grandma (Gamma Bean hehe!) may be old, but she's sharp and witty. She tries to keep up with pop culture like her hyperactive granddaughter, and Jo isn't adverse to helping her stay in the loop.
FUN FACT: Jo is in love with Mustangs. Her Mustang is her little baby that she croons over, even sometimes calling it, "My Precious."
Bianca "Boo" Reese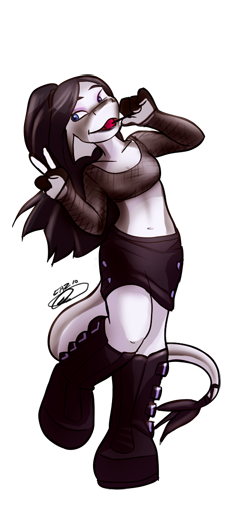 Age: 27 (Human equivilant: 16)
Gender: Appropiately Female
Color: White
Height: 4'4" or 1.31m
Hair: Black
Eyes: Dark Blue
Weight: 61lbs or 27.7kg
Bloodline: Csyelusian and Mystic
Distinct marks: Various black markings on her lower back, around the base of the tail. Also black faded "mittens" and "booties".
Virgin: Yes.
An initial look at Boo might reveal a typical cheerleader type. Not quite a 'queen bee', but more a follower who just naturally is shy, quiet, and stunningly cute. But the more time spent with Boo reveals unexpected surprises. While she is a cheerleader, she doesn't follow any set standard for giggly or gossipy or anything else stereotypically expected of a cheerleader. Her dress style prefers to be "cheery goth" and rather than be an attention grabber, she prefers to sometimes just go unnoticed at will. Sometimes she seems to just fade into the background.
Some might call Boo a dreamer, a bit of a recluse, or just unnervingly quiet. Her best friend Jo would call her kind, generous, humble, and a lot of fun to swap beauty tips with. One thing everyone agrees on is her natural grace. While other girls her age tend to be hyper, she seems to move with a deliberate slowness which leads to an amazing smoothness in all her steps. This 'grace' may come from her knowledge of fencing and swordplay, a very un-cheerleader like pastime.
While Sasha and T may 'geek-off' over comic books or Sci-fi, Boo's interests run more towards the secret agent, James Bond kind of things. If the topic is FBI or CIA or even cover-ups, expect Boo to be a part of the conversation.
Boo's greatest weakness though is her love of all things edible. It distracts her from conversation part-way through, even when she is the one doing the talking. Where she puts all those carbohydrates she takes in may be the world's third greatest mystery.
Not a whole lot is known about Boo's family. She doesn't speak about them much and rarely are people ever invited over. It's unheard of to be invited inside.  They do know that she lives alone with her parents. No siblings, cousins, or anything outside of that.  Nobody knows what they do for a living either. They rarely go out and about and mingle with others in town or even come to things like HOA or PTA meetings.  They're very, very strange folks.
Her house is a large place in a secluded part of town. The few glimpses inside revealed a coolness about the house that has nothing to do with temperature, with depressing dark decor, window shades always pulled shut, and sparse lighting inside. It smells of moth balls, mildewed wood, and air freshener.
FUN FACT: Boo and Sasha were friends when they were both little, but she moved away suddenly and didn't move back until recent years. She reconnected with Sasha and quickly fell into good friendships with Jo, T, CC, and eventually D'shea. She's still sorting how to deal with Rutherford...
D'Shea Mulligan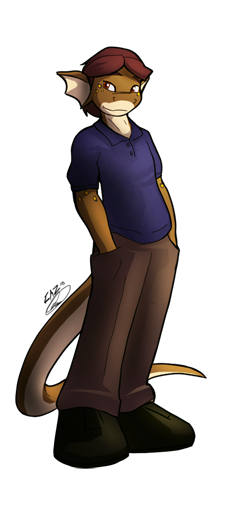 Age: 28 (Human equivilant: 16)
Gender: Male
Color: Brown
Height: 4'5" or 1.35m
Hair: Brown
Eyes: Brown
Weight: 75lbs or 34kg
Bloodline: Skylord and Csyelusian
Distinct marks: Orange leopard markings rimmed in darker brown behind the eyes, neck, back, forearms. Also orange/brown stripe markings on the thighs.
Virgin: Nope. I know, right?
D'shea has lived in Star Rock Falls his whole life. He's ambitious, intelligent, athletic, attractive, and for some reason hangs out with Sasha and the rest of the group. Rumors hint that he's there to try and get better at being around women. In truth, he is a friendly guy, but not very suave. He's orderly and organized beyond someone his age. Not very popular, but gets along with just about anyone.
D'shea's only weakness is that he can be distracted and becomes very clumsy when nervous or excited. This could stem from either being around girls and talking to them, or being the center of attention such as when playing Dragonball and being the MVP for a play. Anything involving getting extremely high praise or focus. All of these things make him trip up or knock things over.
D'shea has this really wonderful, well-rounded and adjusted family. His mother is a lawyer, and his dad is in law enforcement. Combined with D'shea's heightened sense of honor, he is a very lawful and loyal individual to family and friends.  He has siblings, one older and one younger, all of them brothers.
He's that orderly middle boy.
FUN FACT: His confidence was restored thanks to efforts by Sasha, Jo, and Boo.